We found these guys through the Home Show. As you know, there are A LOT of A/C guys at the home show. These guys stood out above all others. The owner was there and talked to us for quite a bit of time, making sure to thoroughly answer all of our questions. After all, this is a huge purchase to make.We called to get a free quote and they came out that very same day. Getting more impressed with every move so far by these guys.We had a price that we didn't want to go over(which of course we didn't say out loud). He quoted us for two 20 seer, 4 and 5 ton a/c units and two new furnaces. Plus they offer this really cool UV light air filtration (we got two of those). With all said and done, the quote was considerably less than what we thought it would be, and came in a couple of Thousand dollars cheaper than the number we didn't want to go over. These guys have great pricing. They offered us financing and offered a 'cash' discount. So a win/win with that!They were able to do installation within less than a week of the quote. They did the whole thing in two days. The guys and girl that came over were on time, professional and very nice to work with. At the end of the job, they cleaned up like they weren't even there.The systems works beautifully!They came by two weeks later to inspect all work that was done and to make sure we didn't have any questions or concerns.They also have a service agreement, included in the cost!I cannot say enough about this company. They are terrific!!! I would highly recommend them….you will be in good hands!!!
We had Tony and Ashley from 5 Star out to install a new A/C unit. They were courteous and professional and did an amazing job. The price was right and they made sure every detail was perfect upon completing the job. I would highly recommend this company and will be using them again when we replace our other unit.
I had Five Star Air Conditioning install a new AC unit at the beginning of the summer. Tony and Ashley came out, removed the old unit and installed a new one. They were on time and very professional. They came back out a couple months later to check on the unit and were both very personable and friendly. If I ever have any issues with my air conditioner or need another unit replaced I would contact them again.
Just had Tony and Ashley install a new AC and furnace unit as well as add a new duct run to our master bedroom. They did a great job was on time got the work done when said and I would recommend them to anyone for AC/Heating work. Chuck and Tim also were very helpful during the proposal estimate period made our decision on what system to use for our best interest. Great Job folks.
Five Star saved me when I needed to get an AC inspection for my real estate client quickly. They came out the next day for the inspection and were very punctual. My clients also used them to replace their AC in their home they purchased . Thank you Five Star I will be recommending you to all my clients.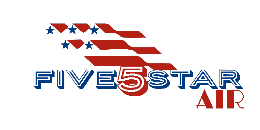 Five Star Air Conditioning
5.0 ★★★★★★★★★★ 106 reviews